EXCELENTE RENTABILIDADE - Escritório na Principal Avenida da Quinta do Património
Arrendado com uma taxa de rentabilidade bruta de:
1º ano: 6,46%
2º ano: 6,92%
3º ano: 7,32%

O escritório é composto de entrada/receção comum e encontra-se dividido em 7 gabinetes e 2 wc's. Encontra-se equipado com ar condicionado e beneficia de uma boa exposição solar. Encontra-se em excelente estado e com muito boa apresentação.
O imóvel situa-se a 5 min do Parque das Nações e à boca do principais eixos rodoviários (2ª circular, A1, A8, Cril, Crel, IC2). A zona envolvente é provida de comércio e serviços (CTT, cafés, restaurantes, bancos, etc) e transportes rodoviários (Rodoviária de Lisboa com paragem a 200m do escritório, sendo que a Carris também vai passar a servir esta zona). Encontra-se previsto o alargamento do metro a Sacavém com saída a 200m do local do escritório. O estacionamento na zona é fácil e sem parquímetro e em frente dispõe ainda de parque de estacionamento público coberto, com avença mensal de 60EUR, ou com taxa horária para visita de clientes.

The office is composed of common entrance/reception and is divided into 7 offices and 2 bathrooms. It is equipped with air conditioning and benefits from a good sun exposure. It is in excellent condition and with very good presentation. Come meet the ideal space to install your business or to monetize your investment.
The property is located 5 min from Parque das Nações and at the mouth of the main roads (2nd circular, A1, A8, Cril, Crel, IC2). The surrounding area is provided with commerce and services (CTT, cafes, restaurants, banks, etc) and road transport (Lisbon Bus Station with a stop 200m from the office, and Carris will also serve this area). It is foreseen the enlargement of the subway to Sacavém with an exit at 200m from the office. Parking in the area is easy and without parking meter and in front of the office there is also a covered public parking lot, with a monthly fee of 60EUR, or at an hourly rate for client visits.
Air Conditioner
Comunications
Smoked Glass
Video Intercom
Burglar Alarm
Recessed Lighting
False Ceiling
Removable Partitions
Aluminum Windows
Afront
Natural Light
Price: Price Upon Request
Status: Good
Gross area: 211m2
Bathrooms: 1
Construction Year: 1989
Energy Certificate: C
Reference: C0389-00004
Hospital (550m) - DAVITA SACAVÉM (Pluribus Diálise - Sacavém, S.A.)
Gym (600m) - Academia de Ginástica Sporting
Pharmacy (700m) - Farmácia Gaspar
School (1km) - Escola Secundária da Portela
Shopping Center (1.3km) - Centro Comercial da Portela
Contact Form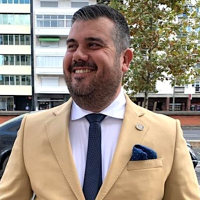 Golden Heritage, Lda. AMI: 16581