Ideal property for your dream home project
It is a house for storage, hayloft, court and patio, as described in the permanent certificate, where you can easily, through a project, have the property to your liking, with a wide view over green spaces and enjoy pure tranquility.

It is located a few minutes from the center of Mafra, access to the A21 Highway and the national 8.
We also have a bus stop right outside the door.

Discover also the history of the Union of the three Parishes where this property is located.

The Union of Parishes of Enxara do Bispo, Gradil and Vila Franca do Rosário was created on January 23, 2013, by virtue of the Administrative reorganization resulting from the application of Law nº 11-A/2013, of January 28, resulting from the aggregation of the parishes of Enxara do Bispo, Gradil and Vila Franca do Rosário.

Former Parish of Enxara do Bispo

The history of the parish of Enxara do Bispo goes back to the history of Enxara dos Cavaleiros, a very ancient village and currently part of this parish, which for several centuries was a village and county seat with a charter granted by D. Manuel I, on November 20, 1519 and having Enxara do Bispo as its only parish until 1836. With the extinction of this municipality, it became part of the Municipality of Azueira, by Decree of January 21, 1847. Later integrated into the municipality of Mafra, by Decree of October 24, 1855, which extinguished the Municipality of Azueira.

It has a landscape characterized by an accentuated rurality, where the wealth of built heritage, both civil and religious, is remarkable, attesting to a past of splendor.

Totally dominated by the majestic Serra do Socorro, whose sanctuary, at its top, has a chapel dedicated to N. Sra. do Socorro and where the remains of a proto-historic fortified settlement from the Iron Age are still visible, whose material collected so far will allow confirming its occupation extension already in the middle of Roman and medieval times. Due to its elevation, it allows an excellent panoramic view all around it and it was one of the places chosen for the installation of a telegraph during the Peninsular War, which allowed communication between the posts of the 1st and 2nd Lines of Torres .

Previous Parish of Gradil

The Gradil obtained a charter from King D. Afonso IV, in the year 1327, which was later confirmed by D. Manuel I. Having belonged, by Decree of November 6, 1836, to the Council of Enxara dos Cavaleiros, by Law of 12 June 1837 to the municipality of Azueira and with its extinction, in 1855, it became part of the current municipality of Mafra.

It was cured by the presentation of the Colégio de Santo Antão de Lisboa, having passed into the possession of the University of Coimbra.

It is characterized by an essentially agricultural region, rich in vineyards and orchards, with a surprising landscape, the existence of some 18th and 19th century manor houses and a baroque Mother Church, dedicated to S. Silvestre, dating from the 17th century. XVII, and owner of an organ by Machado de Cerveira with nº 59, from the year 1801.


Previous Parish of Vila Franca do Rosário

The parish of Vila Franca do Rosário was created on October 5, 1939, by virtue of Decree-Law 30.104 D.G. on 12/04/1940, due to detachment from the parish of Enxara do Bispo, although the earliest known news about it dates back to 1527, where it was then a village with 17 inhabitants, including the two couples around it.

King Filipe III grants it, on March 4, 1626, the mercy of the current designation, due to the "fervour that these people of these places have for Our Lady of Rosário", in exchange for "one sheep, three chickens, four rabbits meek, two baskets of cabbage, one of oranges, five bushels of corn a year".

By provision of D. Maria I, on May 26, 1778, the Feira Franca was created in Vila Franca do Rosário, which until 1890 was held on the 4th Sunday of September and whose revenues served to rebuild the Mother Church, in ruins due to the earthquake from 1755.
Price: 56 000 €
Status: Needing Total Refurbishment
Net area: 81m2
Gross area: 330m2
Construction Year: 1995
Reference: C0444-00269
How much is my house worth?
Schedule Visit
Contact Form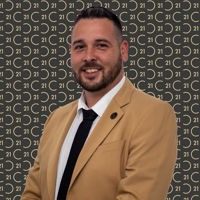 David Oliveira
CENTURY 21 Sandra Silva
(Call for a national mobile network.)
CERTEZAS E CONCEITOS – MEDIAÇÃO IMOBILIÁRIA, UNIPESSOAL, LDA., AMI: 19009