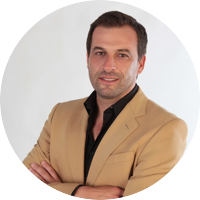 Profile
Having started my professional career in the banking (BCP), most of the time was done in the Pharmaceutical Industry, where I performed several functions. Starting as a Medical Sales Representative, after completing the academic training in Marketing Management, I took on functions as Key Account Manager and Product Manager of a German multinational (ratiopharm). It was almost 22 years of great challenges and learning, where I developed skills in negotiation, organization and professionalism, in terms of the requirements of one of the most competitive sectors in the world.
In 2020, I discovered and started my activity as real estate consultant, where I concentrate all my energies and tools acquired over these years.
I don't believe in perfect people but I do believe in perfect teams!
This thought has been with me for many years and reminds me that each of us manages to make a difference, but the support of a united and oriented Team towards a common goal, makes success a consequence and not an obsession.
Training and Expertise
Certified Luxury Home Marketing Specialist

CREATE 21 Golden Edition

SER&ESTAR CENTURY 21
Testimonies
João e Irene Neves

March 2021

Lidei com o Sr João Cabaça na qualidade de comprador e de vendedor, podendo dizer que estou extremamente satisfeito com o seu desempenho nas duas vertentes. Como comprador apreciei especialmente a atenção que teve em actualizar-me em todos os momentos, e em ligar-me a título de cortesia quando (ainda) não havia actualizações a fazer. A isto acrescento a grande proactividade que demonstrou sempre que alguma dificuldade se apresentou no caminho e a rápida reacção a todos os meus pedidos e perguntas. Como vendedor pude apreciar o grau de empenhamento do Sr João Cabaça em utilizar todas as ferramentas possíveis para fazer chegar o meu imóvel ao comprador certo, bem como o pragmatismo quando foi necessário fazer ajustes tácticos (principalmente de preço) ao processo. Mesmo nos momentos finais do processo, apreciei o cuidado em alguns detalhes que contribuíram para uma escritura de venda sem problemas.

Mário e Helena Azevedo

March 2021

Nós, Mário Azevedo e Maria Helena Azevedo, expressamos ao Sr. João Cabaça, consultor imobiliário da CENTURY 21,a nossa inteira satisfação e agradecimento, pela rapidez e eficiência com que com que angariou interessados compradores para os imóveis que colocámos à venda através da empresa mediadora que representa. Para além das suas excepcionais qualidades comerciais, o Sr. João Cabaça possui muito bons conhecimentos jurídicos e processuais, relacionados com a mediação imobiliária, e que se revelaram também muito úteis à concretização da venda. Por isso, merece os nossos agradecimentos.

Mário Coelho

January 2021

Caro João, Agradeço a disponibilidade, empenho e profissionalismo com que me ajudou a resolver os desafios de venda da minha casa e da compra de uma casa nova. Sem dúvida que tornou todo o processo mais simples, rápido e eficaz. De futuro, caso volte a passar por um processo semelhante não hesitarei em recorrer aos seus serviços. Melhores Cumprimentos, Mário Coelho

Ricardo e Carla Ferreira

January 2021

Simpatia e disponibilidade, aliado a profissionalismo só podia dar um excelente resultado. Obrigado João, foi sem dúvida a melhor escolha que poderiamos fazer para o processo de venda de algo tão importante como é a nossa casa.

Alexandre Pais

December 2020

O trabalho foi exemplar, demonstrando grande profissionalismo, simpatia, amabilidade e franqueza. Obrigado João Cabaça.

Enzo Guidez

November 2020

O processo não foi simples mas com o apoio do João e da sua equipa conseguimos ultrapassar todos os problemas. Excelente profissionalismo, dedicação e disponibilidade total em todas as fases do processo!