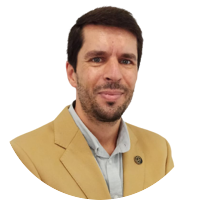 Profile
When starting the profession of real estate consultant, I immediately thought that one of my main focuses would be to help people fulfill their biggest dreams and life goals. Throughout my journey, this idea has intensified day after day, because if there is something that makes me truly happy, it is feeling satisfied, fulfilled and confident in our work, it is moving forward with a feeling of accomplishment. .
My challenges and working methods are to think about people first and only then about the business itself. Being able to listen and understand the customer before making any decision. All these points are extremely important, in my view, for this partnership to be a success.
I think of the Real Estate area as something very serious, because it involves transactions not with common everyday objects, but with homes, houses, shops, offices, etc. Places where we spend most of our lives and whose value is special. Because in addition to the monetary side, in most cases, it also has a sentimental and appreciative side.
Before entering the Real Estate sector, I was involved in the areas of Restaurants and Tourism.
I started my professional career at the age of eighteen, when I joined a national company, owner of several premium and emblematic restaurant spaces in Portugal and leader in its segment. I stayed in this company for fifteen years in a row, always connected to the city of Lisbon and also for a few years in Sintra. Then I was connected to the commercial aviation area for 3 years.
The paths I went through offered me a great deal of learning, experience and personal development, because they allowed me to acquire various skills, whether in terms of interpersonal relationships, in management, in the commercial area, but also in more technical and specific areas.
I was always used to working and giving up a lot to achieve my goals, as well as those of the companies I worked for. This effort, after a few years, gave me the responsibility and the possibility to remain as a team leader, as well as one of those responsible for the spaces where I worked. This entire journey has developed me professionally and humanly, allowing me to pass on my experience and testimony to all those who dealt with me.
I have never forgotten the lessons I learned from more experienced people and I try to be aware that our learning process will last until the end of our lives and that our failures and bad decisions are also part of it.
My life motto is not to do to others what I don't like to be done to me and I cherish my moral values.
My priority is attention and detail towards customers, they are our cause, the reason for all this effort, dedication and commitment, without them this activity will not be possible to happen.
I am prepared to move forward in the collaboration of your most advantageous business and are you prepared to trust my work and that of the team to which I belong?
It equips this world leader, who has the largest real estate network in the world, with specialized, reliable and top consultants, as well as innovative and differentiating tools in the real estate market, capable of overcoming all your needs and concerns.
Count on our full support, trust in a work of excellence!
Training and Expertise
Branqueamento de Capitais 2022
CREATE 21 Golden Edition: Etapa Presencial Lisboa
Ser&Estar
Languages
English
Español
Português